Strivr Portal release notes
COMING SOON: The Content Library will contain content (immersive experiences); courses will move to a new Courses tab in the Content menu. You will build courses in the Courses tab and manage content in the Content Library.
August 2023
Location archiving protection
Locations can no longer be archived if there are active devices associated with them. The user is instead prompted to delete or assign those devices to another location prior to performing the archive action.

Bug fix: Deselect All behavior in Location filter
On the Location filter on the Analytics and Device pages the Deselect All functionality has been modified to provide expected behavior when using it alongside location tags. The Deselect All command now leaves the currently selected tag in place, but deselects all tag values. Previously, the Deselect All command would remove the currently selected tag and instead incorrectly move to the No Location Assigned tag because no options were selected
The Deselect All command now deselects all tag values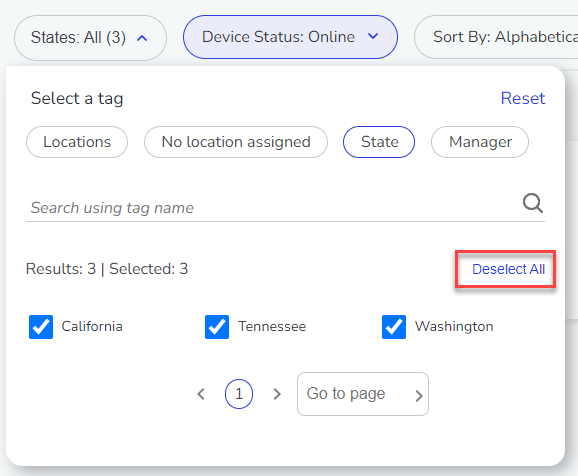 Bug fix: Duplicate name for archived content
In the Content Library, an issue has been resolved that prevented new content from being created that has the same name as a piece of archived content.
Analyze by learner sort
When viewing the Analyze by Learner → Learner Profile page, the order of the experiences listed is now sorted by order of completion, rather than most recent access, which provides a more consistent display of data.
July 2023
Device Overview page improvements
The Device Overview page in the Strivr Portal now includes updated tooltips to better explain how each KPI is measured and how online/offline is defined. Complete definitions are available on support.strivr.com.
Content deployment no longer allowed to archived devices
When a location is archived, it will be hidden from the list of available locations during the content deployment process. Users with the necessary permissions can unarchive a location as needed.