Cleaning & disinfecting VR equipment
It's important that your Strivr VR training facility and equipment is kept clean and disinfected. The steps listed here are Strivr recommendations to promote hygiene and safety practices in your VR Training. Your company policy may include some or all of these steps. Contact your Strivr Account Manager to build a hygiene plan suited to your business.
Always follow manufacturers' instructions for proper use.
| | | |
| --- | --- | --- |
| | | |
| Before and after cleaning and disinfecting equipment, wash your hands thoroughly with soap for at least 20 seconds, following recommended CDC hand-washing protocol . | Use CDC-listed wipes on headsets, controllers, and working surfaces (including desks, chairs, etc) and leave to dry for 10 minutes. Strivr recommends using wipes from this list - if they are unavailable please check the headset manufacturer recommendations before selecting alternate wipes. | Use recommended non-abrasive wipes on headset contact areas (face pads and straps). |
NEVER TOUCH THE LENSES WITH WET WIPES.
IF YOU NEED TO WIPE THE LENSES, USE THE DRY MICROFIBER CLOTH.
OPTIONAL STEPS - CHECK YOUR COMPANY POLICY
| | | |
| --- | --- | --- |
| | | |
| Run each headset through a UV-C cycle for extra disinfecting. | Add inserts to each headset to indicate they are cleaned and disinfected (make sure to wipe after removing for training.) | At the end of each week, switch to a different set of headset straps (Oculus Go only) and face pads. Wash last week's set in the washing machine or pack for pickup by a cleaning service. |
Removing Straps (Oculus Go only)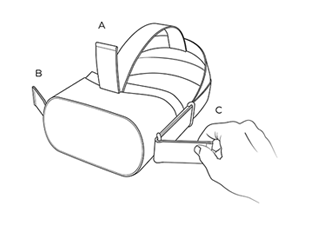 Detach the velcro on the side and top straps and pull the straps out of the slots.
Replacing Face Pads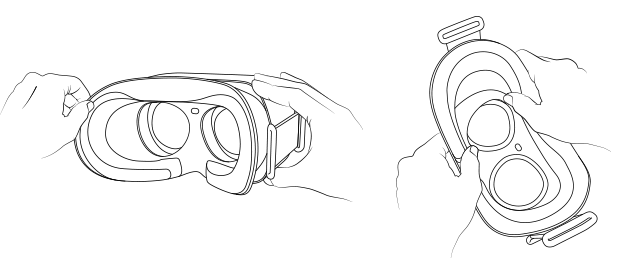 To remove the original face pad, grip the pad by the side and pull. To attach the new pad, press with your thumbs around the proximity sensor and lenses.